RAU REPAIR, LLC
42957 RAVEN ROAD
AINSWORTH, NE 69210
(21 miles south of Ainsworth)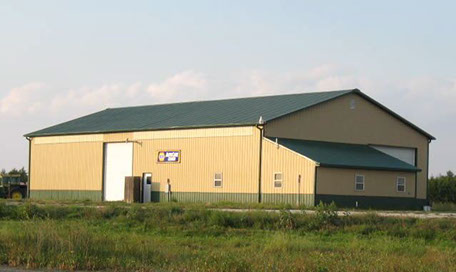 Monday - Friday 9:00 am - 7:00 pm
Saturday 9:00 am - 1:00 pm
Sunday Closed
Welcome to Rau Repair your choice for Ranch Hand Grille Guards and quality service. We take pride on working on your pickups, from installing your new grille guard to rebuilding your engine, we here at Rau Repair use only quality parts and we stand behind the work we do. Whether the work is on your good pickup or that old reliable ranch one.
Randy Rau, Owner and head mechanic is a 1996 graduate of Mid-Plains Community College - Diesel Technology Program. During college he worked over three years for a very highly knowledgeable and reputable diesel shop, Mid America Diesel Inc.. Then he went to work for Joe Dye Ford for a year, Joe Dye Ford was bought out by Bill Summers Auto Group and Randy stayed on with them for around 3 years. He learned so much while at these businesses. Everything from electrical diagnoses and mechanics of current Diesels and their drive trains. Then Randy started working on the family ranch helping his dad with custom haying. Before he knew it, word got out that he would work on a pickup or two between ranch projects. He worked in the family garage next to his dad's house, and many days it was filled up with local ranch pickups. After several years working in the garage, Doug, Randy's dad, put in a concrete floor and insulated the hay equipment storage building, this building is now the current business location of Rau Repair, LLC. Randy still works on local ranch pickups along with 7.3 and 6.0 ford diesels, as well as the Cummins in Dodge pickups. Sorry we do not work on Duramaxes.
Here at Rau Repair we install top of the line products like AAM and Spicer U-joints, LUK clutches, and KYB shocks. We carry Shell Rotella® Diesel motor oil and the new Shell Rotella® T6 Full Synthetic Heavy Duty Engine Oil. We can also install the full life time warranty wheel hub bearings by The Timken Company. We install quality Ford, Dodge and Napa parts. OEM quality parts are installed 50% of the time because they are pretty hard to beat. Rau Repair is also a dealer for quality brand products that can have your Ford 6.0 running better than ever and even make it more reliable. From fuel regulated return systems (Strictly /Driven Diesel :We are a dealer) to head gaskets and studs. We are also a dealer for FASS fuel systems, Diesel Site for there HPOP's and Bullet Proof Diesel's top of the line oil cooler setups, 6.0 FICM's and EGR cooler up grades. Or we can also have a quality repair shop rebuild the FICM's if you, the customer, doesn't want the Bullet Proof one. Any time your shop is dealer for a product the shop often times gets dealer pricing and that means savings for you the customer. Savings on part cost and time because they have used the product and have the knowledge of what works and what doesn't. Any questions or comments are appreciated and we are always looking for ways to improve the reliability of your pickup.
AUTHORIZED DEALER for